AdBlue
Advanced emissions control

AdBlue is a leading formulation designed to improve the environmental efficiency of diesel vehicles. Made from 32.5% urea and 67.5% demineralised water, AdBlue reacts with and neutralises harmful nitrogen oxides produced by the diesel combustion process. With the aid of SCR technology (Selective Catalytic Reduction), nitrogen oxides are broken down to produce nitrogen and pure water. This allows modern diesel engines to conform to the Euro IV, Euro V and Euro VI emission standards.
We understand the importance of quality, that's why our AdBlue is produced to the latest standards in order to protect your vehicles. Using low-quality AdBlue could damage the SCR-catalyst which could result in reduced engine efficiency or even cause a complete engine shutdown. Our AdBlue is produced according to the ISO 22241 standards with certificates of conformity to show traceability.
To take the confusion out of purchasing AdBlue, we created a friendly guide to help guide you through it.
How Does AdBlue Work?
---
AdBlue is a fuel additive required in modern diesel engines in order to conform to the latest Euro emission regulations. Vaporised AdBlue is injected into the exhaust stream of a diesel engine.
When the hot exhaust gases are combined with the AdBlue in the SCR system, it's broken down into pure nitrogen and pure water vapour. These are then expelled through the exhaust pipe.
Who Needs AdBlue?
---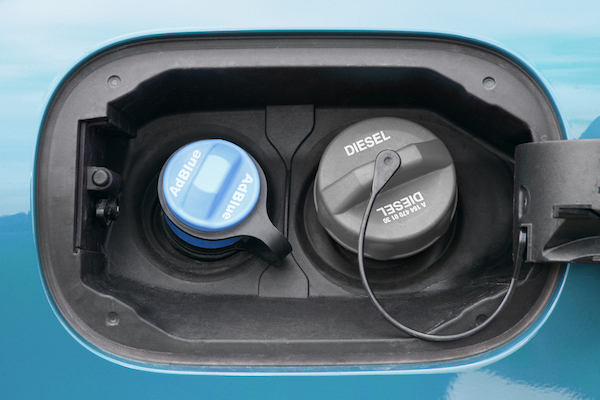 If your vehicle has a SCR catalyst fitted, you will require AdBlue.
To help you identify the presence of an AdBlue system, the tank has a blue or AdBlue marked cap in close proximity to the fuel cap.
In passenger vehicles, AdBlue tanks are typically located either under the bonnet or inside the vehicle. Commercial vehicles typically house the AdBlue tank near the engine or fuel tank.
What happens if AdBlue runs out?
---
If a vehicle's AdBlue tank is not topped up and is allowed to run out, most engines will show a dash warning message and either go on a "limp home" mode or not allow the engine to start. If this occurs you must top up with AdBlue as soon as possible.
Drivers with Roadside Assistance cover should see if they are eligible to receive an AdBlue top up as part of their plan.
How often does AdBlue need to be topped up?
---
Most commercial vehicle's AdBlue tanks will be topped up each time the vehicle is serviced.
One litre of AdBlue is usually sufficient for around 625 miles of driving, however this consumption will be higher depending on the type of driving, mileage and road conditions. Some vehicle manufacturers will specify that AdBlue needs to filled up by themselves at a service, but this isn't the case. Anyone can fill up their AdBlue tank.
How should AdBlue be stored?
---
AdBlue should be stored in a cool, dry, and ventilated area out of direct sunlight. It is recommended that AdBlue is stored in temperatures up to 25°C.
If stored correctly, AdBlue will last for approximately two years.
Buy AdBlue & AdBlue Accessories